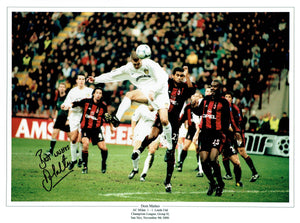 Domonic Matteo - Leeds United - Champions League - 16 x 12 Autographed Picture
This is a cracking 16 x 12 action shot of the former Leeds United player Domonic Matteo scoring against AC Milan in the European Champions League.
Dominic Matteo is a Scottish former professional footballer. He played as a defender and midfielder in a 17-year professional career from 1992 to 2009. He made a total of 366 league and cup appearances, of which 276 were in the Premier League.