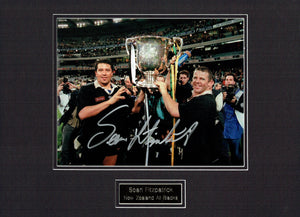 Sean Fitzpatrick - New Zealand All Blacks - 12 x 8 Mounted Autographed Picture.
Sean Brian Thomas Fitzpatrick, ONZM, is a former rugby union player who represented New Zealand, and is widely regarded as one of the finest players ever to come from that country.
.
This is a lazer cut double mounted 16 x 12  piece with a 10 x 8 picture of Sean celebrating yet another Cup Final victory and has been signed by the great man himself.